7 Fake Movies We Wish Were Real
In a little over a month, the movie Machete will be hitting theaters. For those of you who don't know, this movie originally started out as one of the fake trailers in the Grindhouse double feature released by Quentin Tarantino and Robert Rodriguez. However, the fake trailer was such a hit that fans demanded it be turned into a real movie. And soon, they'll finally see their wish come true.
It got us thinking. What are some other fake movies we'd love to see turned into real movies? Here are 7 movies that would put our butts in the theater if they were ever released.
1. Cleaver (origin: The Sopranos)


"Saw meets Godfather II" is how Christopher described his idea for Cleaver. The storyline goes like this: a young made guy gets betrayed by his family. They whack him and place his severed body parts in dumpsters all around the city. Somehow, he is put back together "by science, or maybe it's supernatural" and he proceeds to get payback on everyone who turned their back on him.
The Sopranos writers took this fake movie storyline pretty far, producing an 8-minute making of Cleaver with behind the scenes footage for the "movie" starring Daniel Baldwin. An over-the-top mafia slasher? Count us in.
2. Rochelle, Rochelle (origin: Seinfeld)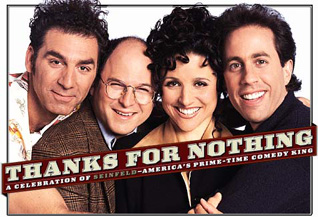 This fictional film is referenced several times throughout the Seinfeld series. You never actually see the film, but based on the bits and pieces you learn from the characters, it's basically a bad foreign erotic film that has a lot of nudity. The movies tagline is "A young girl's strange, erotic journey from Milan to Minsk.
As Elaine put it, "Men will sit through the most boring, pointless movie if there's the slightest chance a woman will take her top off." I can't speak to that, but if the fake movie was eventually turned into a fake Broadway show featuring Bette Midler, it couldn't have been all that bad.
3. Firestorm (origin: Seinfeld)


Let's stay in the Seinfeld universe for another moment and visit another fake film that gets referenced throughout the series. This time, the movie is Firestorm, and it sounds like a true man's action film. The fake film stars Harrison Ford, who at one point in the movie "jump(s) out of the plane and shoot(s) back up at them while he was falling." It also has a scene where a helicopter lands on top of the car and an underwater escape.
There aren't enough cheesy, mindless action films these days if you ask us. Give us Firestorm now!
4. The 3 (origin: Adaptation)


This is a fictional script written by Charlie Kaufman's twin brother in the movie Adaptation. It's a psychological thriller about a copy who protects a woman from a serial killer. The movie involves a scene in which the serial killer takes off with the girl on horseback, and the cop is chasing on motorcycle—a real battle between "technology vs. horse." How can you not want to see this chase scene?
5. Medellin (origin: Entourage)


If you've seen Entourage, you're all too familiar with how important Medellin was to Vincent Chase. This Scarface-like movie about Pablo Escobar was a project years in the making for the character.
Much like The Sopranos did with Cleaver, Entourage also blurred the lines between fiction and reality by presenting a full Medellin trailer and creating rumors that the movie might be real. It wasn't, but we'd be down for another Scarface style movie.
6. Thanksgiving (origin: Grindhouse)


"This year, there will be no leftovers." "White meat, dark meat…all will be cared." These are just a couple of the great quotes from the Thanksgiving trailer from director Eli Roth.
According to Roth, this holiday-themed slasher is about "A kid who's in love with a turkey, and then his father killed it, and then he killed his family and went away to a mental institution and came back and took revenge on the town." Two words: Hell yeah!
7. Satan's Alley (origin: Tropic Thunder)


Satan's Alley was a fake trailer that played before Tropic Thunder. According to the movie's website, "Award-winner Kirk Lazarus (Robert Downey Jr.) paints another stark and moving portrait in his depiction of pastor Father O'Malley, the shamed priest who has committed the ultimate sin. Set against the backdrop of Eighteenth century Ireland, young O'Malley is banished from Belfast, after it is discovered that he has "Sinned the sin that dare not speak its name".
O'Malley has to travel in the dark of the night to escape certain death. He goes to the town of Mohr, but even in Mohr, temptation has a "way of finding the weak."
What are some other fake movies you wish were real? Share your favorites by leaving a comment.