20 Child Stars Who've Been Arrested
If history has taught us one thing, it's that when a child succeeds in the entertainment industry, they'll likely be a complete screw up as an adult. The following actors had great careers as children, but ended up under custody as adults.
1. Lindsay Lohan

When you hear the phrase "train wreck," what comes to mind? Probably a picture of Lindsay Lohan in an orange jumpsuit. Lohan made her film debut at 11 years old in the Disney remake of Parent Trap. Her career took off during her teen years with movies like Freaky Friday and Herbie: Fully Loaded. However, as Lohan transitioned into adulthood, the partying got the best of her. Unable to control her drug habit, Lindsay finally served hard times.
2. Britney Spears
"The Mickey Mouse Club" is famous for its child stars who later hit the big time. Britney Spears is one of those stars. At one point, she became the biggest pop star in the world. After a bad marriage and a few kids, Britney seemed to lose her mind. Drugs, depression, and bad decisions had her checking in and out of rehab. Eventually she turned herself in to the police for a minor hit and run. When offered the back door entrance to the station, she opted for the front door with paparazzi instead.
3. Michael Jackson

MJ needs no introduction. The biggest pop star of all time got his start with his siblings in The Jackson 5. As he earned the title of "The King of Pop" in his adult years, Jackson seemed to inch toward the brink of insanity. In November 2003, Jackson found himself in custody under the very serious charges of child molestation. Although he was found not guilty, his reputation never recovered.
4. Gary Coleman

"Diff'rent Strokes" star, Gary Coleman, couldn't get his home life together. Domestic disputes landed him in custody more than once. He also rammed a fan in his truck, to which he pleaded no contest.
5. Dana Plato


Another "Diff'rent Strokes" child star hits rock bottom. She fell into drugs, posed for playboy, and died of an overdose. She got arrested a few times, once for forging a Valium prescription and once for attempted robbery. I think there was a curse on that show.
6. Brian Bonsall


Assault and neck tattoos are the last things you would have expected back when Brian starred on "Family Ties." But he's different from the other sad stories. He does drugs to ward off his headaches.
7. Macaulay Culkin


When you leave your kids Home Alone, odds increase that they'll smoke weed. And when they get caught, they go to jail. 'Nuff said.
8. Tatum O'Neal


Tatun O'Neal starred at a young age in Paper Moon. This Academy Award winner has a weakness for cocaine. In fact, she got busted for buying it.
9. Marty York

Marty York was best known for his role as "Yeah-Yeah" in Sandlot. Now he's famous for hitting a woman. In particular, his girlfriend. He punched her right in the eye. Stay classy, Marty.
10. Shia LaBeouf


"I have never had a beer because I like the taste of beer. I always had a beer to get f—d up," says Transformer star Shia LaBeouf. As a child he played on the Disney series, Even Stevens. As an adult, he was arrested for DWI.
11. Haley Joel Osment


The Sixth Sense actor Osment, who got busted for DWI fresh out of high school, looks awfully happy for a kid who just got arrested. Maybe because he was wasted. Anyway, he claims to have conquered his demons. But of course, only time will tell.
12. Leif Garrett


Small time actor and teen idol, Leif Garrett had a promising future. And like so many others on this list, it was squelched by drugs and booze. Things really went downhill when he crashed his car drunk and paralyzed his passenger. How do you recover from that? You don't
(unless you're a Kennedy). Later he got hauled in for heroin possession. Can you say "felony?"
13. Devon Anderson


Anderson starred in "Hollyoaks" and "Eastenders". And unlike the others, it wasn't drugs that had him cuffed. His sin? Sexual Assault. Of course, it was after a night of clubbing. So it's safe to assume he probably wasn't in his right mind.
14. Danielle Fishel

Remember Danielle Fishel, star of "Boy Meets World?" Once upon a time she was on her way to being a teen-queen. But drinking and driving have put the brakes on her career. She's also had trouble making court dates.
15. Adam Rich


Former child actor who starred in "Eight is Enough" obviously doesn't know when to say "enough is enough." He turned down a closed road and almost struck a police car. Drunk.
16. Jeremy Jackson


Jackson once played David Hasselhoff's son on Baywatch. After almost a decade growing up on the set of the show, Jackson left because he thought he was too good for the role. What did he move on to? Setting up a meth lab in his home. Hasselhoff taught him well.
17. Christian Bale
Bale got his break at age 13 in Empire of the Sun. As an adult, he's had a successful career in brilliant movies such as The Dark Knight and American Psycho. In fact, he's easily the most successful actor on this list. Unfortunately, he has a bit of a temper (listen to the clip to hear him go off on a lighting guy). Although he wasn't charged, police took him into custody for allegedly beating his mother and sister.
18. Danny Bonaduce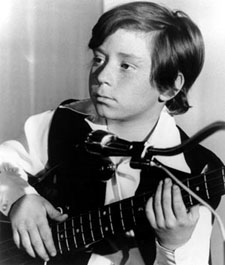 Bonaduce has come a long way since "The Partridge Family." He's made appearances on "Celebrity Boxer" and a FOX special where he beat up Barry Williams. Unfortunately, his fight skills got him arrested in 1991 when he beat the stuffing out of… wait for it…a transvestite hooker. Wow.
19. Brad Renfro

Brad Renfro was no stranger to arrests when he tried to buy heroin from an undercover cop in 2005. In fact, he had multiple run-ins with the law beforehand, including attempted theft and drug possession. Not to mention underage drinking. Unfortunately his drug habit ended his life early at age 25.
20. Todd Bridges

Another victim of the "Diff'rent Strokes" curse. His resume includes drug abuse and attempted murder. Lucky for him, he seems to have turned his life around. He even wrote an autobiography detailing his struggle. Has the curse finally been dropped?
Why is it that these stars who have everything seem to fall the hardest?