25 Movies You Need In Your DVD Collection
Redbox and Netflix have made watching movies so easy that you might be considering never buying a DVD again. However, some movies are so good that you just have to own them. Here are 25 that are worth more than a rent.
1. Fight Club

Fight Club rules for a variety of reasons. First of all, it stars Brad Pitt and Edward Norton. Second, it's based on a novel by Chuck Palahniuk, who is one twisted yet brilliant author. Third, Brad Pitt comes out of the bedroom naked with a yellow dishwashing glove on while his girlfriend in the back says "I haven't been ****** like that since grade school." Also, fighting to ease daily stress is what every man secretly wants to do. And finally, who wouldn't love seeing Jerod Leto get his ass kicked?
2. Star Wars Trilogy (The Original)

We couldn't pick just one, so we included them all. Not to be confused with the horrible parts 1-3, the original Star Wars Trilogy just might comprise the greatest sci-fi movies ever. Of course, you always have opponents whining that it ripped off Dune, but does anyone really care? The Dune movie sucked.
3. The Godfather


Made way back in 1972, this film set the standard for all mafia movies and shows. Face it, there would be no Sopranos if it wasn't for The Godfather. And it won 3 Academy Awards. Go ahead and watch part 2 while you're at it, but I wouldn't bother with the third one.
4. Pulp Fiction


Highlights for this cult classic include Samuel L. Jackson's classic holy diatribe before he shoots and John Travolta jabbing Uma Thurman in the chest with an adrenaline needle. You have 4 unique stories of violence and redemption woven together seamlessly. Easily the best Tarantino film.
5. The Incredibles


You can't teach an old dog new tricks. Such is the theme behind the this Pixar jewel. Once a super hero, always a super hero. It's animated and fun without being cheesy. And you can watch it with your kids.
6. Forest Gump

Remember when everyone was walking around saying "Life is like a box of chocolates…" and "Run Forest, Run!" Sure it's annoying when people over-quote movies, but Forest Gump was well-deserving. Tom Hanks put on quite the convincing performance.
7. Enter the Dragon

Before Bruce Lee made this movie, Kung Fu movies were basically a big joke. He managed to create a serious Kung Fu movie with realistic fight scenes and a great plot. And it's been copied many times over ever since (ahem… Mortal Kombat).
8. Boogie Nights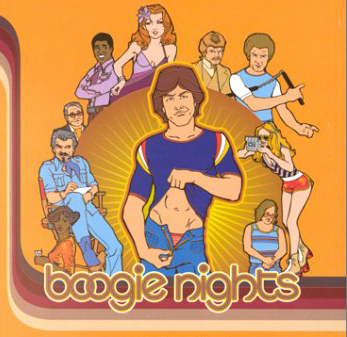 What makes this movie so cool isn't that it's about porn. It's the manner in which it follows the characters as they transition (unsuccessfully) from the 70's to the 80's. The New Years suicide scene is one of the most unsettling clips of all time.
9. The Shining

The Shining is the scariest movie ever created. Period. Rather than relying on gore, the movie succeeds because Jack Nicholson is probably the best actor ever to play the part of a man losing his mind.
10. Back to the Future

Back to the Future made Michael J. Fox the poster boy of the 80's. And it's still cool decades later. You absolutely must show this to your kids.
11. Casablanca


Casablanca is the great American love story. And it was way ahead of its time with the twist in the end. This film helped Humphrey Bogart solidify himself as one of the best actors of all time.
12. American Psycho

Simultaneously horrific and humorous. With scenes like Bateman posing in the mirror during sex and running down the hall with no clothes, a chainsaw, and white tennis shoes, this movie is a staple for any guy. However, women have accused it of being sexist.
13. Animal House


The original party movie. In Animal House, John Belushi creates the "funny fat guy" stereotype. This movie is a must for any time you throw a bash at your house.
14. Big Lebowski


The Dude is the coolest burn out you'll ever meet. And John Goodman provides the perfect Yin to his Yang with his neurotic, overly-aggressive character. The plot is so convoluted that it's difficult for me to even attempt to explain. And in this case, that's not a bad thing.
15. This is Spinal Tap

Billed as a "rockumentary," This is Spinal Tap follows a fictitious band as they attempt to make a comeback in the early 80's. Not only is it funny, but the music is awesome, featuring classics like "Big Bottoms" and "Stonehenge." And the DVD commentary is as hilarious as it gets.
16. Office Space

You'd be hard pressed to find someone who actually enjoys working in a cubicle. That said, almost anyone can relate to this cult classic. Who doesn't spend half their work day surfing the web, anyway?
17. The Silence Of The Lambs


Interviewing one serial killer to help catch another. This psychological thriller is the pinnacle of the genre. The twists and turns will have you on the edge of your seat no matter how many times you've seen it.
18. The Matrix

It's dark and gritty. It's kung fu and sci-fi. It's apocalyptic yet indie. When The Matrix came out, I was completely floored with the originality of it all. Unfortunately, both sequels disappointed. If they could have recreated the success of the first, this could have toppled Star Wars as the best sci-fi trilogy of all time.
19. E.T.


No matter how old you are, the chances of crying during this movie are extremely high. Spielberg proves his expertise at eliciting powerful emotions while keeping things fun.
20. The Dark Knight


Batman and the Joker like you've never seen them before. Christian Bale and Heath Ledger team to create the best super hero/villain combination ever to hit the big screen. And the fact that Heath Ledger died shortly after finishing the movie helped propel the movie into historical status.
21. Goodfellas


From the opening quote, "As far back as I can remember, I've always wanted to be a gangster," you know you're about to be taken on one hell of a ride. Scorsese depicts the rise and fall of a man who starts out innocent and eventually destroys himself through a life of drugs and violence.
22. It's a Wonderful Life

Sure it's a bit cheesy, but "'tis the season," right? Reminding us things could always be worse, Jimmy Stewart became a legend thanks to this movie. Pop it in around Christmas time and teach the kids a valuable lesson.
23. Taxi Driver

Another Scorsese gem. Robert De Niro drives a cab, picks up hookers, loses his mind, and massacres people. Sounds awesome, doesn't it? The kill scenes toward the end are hilarious too. It looks like they're using stop motion for the gore.
24. Crouching Tiger, Hidden Dragon

Not since Enter the Dragon has anyone produced such an epic martial arts film. Combining beautiful cinematography with dance-like fight scenes and fantastical floating to roof tops and trees, this movie took the kung fu film genre in a completely new direction.
25. Terminator 2: Judgment Day

Can you think of any sequel that's better than the original? Terminator 2 is one on an extremely short list. The best action movie of all time, Terminator 2 actually makes you think, posing the question, "are we our own worst enemy?"
And that's it. What did I leave off?