Top 30 Kids Movies For Adults
When you have kids, your movie choices become severely limited. And unfortunately, most children's movies are painful to watch. To help you out, we've compiled a list of 30 movies that hold our attention and don't require children to cover their eyes half the time.
1. Where the Wild Things Are

Not only is this a cool book, but the movie is great as well. It's quirky and sometimes just downright weird. This is a great movie to show your kids if you're wanting to introduce them to "indie style" movies. And the sound track fits perfectly.
2. Toy Story

I don't need to say much about this one—the one that started it all. As a general rule, adults love Pixar movies as much as kids do. So sit back and watch Buzz and Woody with your kids.
3. The Fantastic Mr. Fox

Another indie film for kids. Or is it for adults? Brought to you by the minds behind Rushmore, this stop-motion film teaches a moral with a healthy helping of strange mixed in. Perhaps the most interesting part is how the characters insert the word "cuss" where other cuss words would fit. Example: "What the cuss is wrong with you?"
4. The Triplets of Bellville

This French animated film is mostly silent. However, it's beautifully made and is sure to capture the attention of anyone who gives it a chance. It involves a guy getting kidnapped by the mob during the Tour de France and his old mother saving him. Not your normal animated flick. Disclaimer: Be aware, there is brief animated nudity in this film. "So why is it on this list?" you're probably asking. Well, it's French. And frankly, overseas nudity isn't such a big deal. So with that in mind, if you don't want your child seeing a cartoon character topless, skip this one.
5. Dark Crystal

It's muppets, but not really. Sure Jim Henson is at the reigns, but this movie is a long way away from Kermit the Frog. Careful…it may scare the younger ones.
6. The Never Ending Story

Hurry up and watch this classic fantasy with your kids before Hollywood releases the reboot in 2012. I'm sure there will be so many modern special effects in the new one that they won't want to go back and watch the original classic.
7. E.T.

The original kid-friendly alien. There's nothing bad about this movie. The perfect pre-Halloween classic for those who don't want to scare their kids.
8. Muppets Movies

Jim Henson is most famous for his catalogue of Muppet movies. From Kermit to Gonzo to the annoying Miss Piggy, choose any one of the Muppet movies for a good laugh.
9. Charlie Brown Holiday Specials

I guess these would be considered movies, right? No holiday is complete without one of these classics. Take your child back (and yourself) back to a simpler time when animation wasn't so flashy and dialogue wasn't so quick.
10. A Christmas Story

The ultimate Christmas movie. No matter how many times you see it, the lamp is still awesome and the tongue on the post still sends chills up your spine.
11. Shrek

Shrek is pretty much a cultural phenomenon. It's almost as if they made it for adults, with kids as an afterthought. It's nearly impossible not to laugh all the way through.
12. Pee Wee's Big Adventure

OK, maybe Pee Wee is a bit annoying. But no matter how annoying he is, you can't help but watch it with fond memories… right?
13. Flight of the Navigator

There is literally nothing not cool about this movie. 80's clothes, flying an alien space craft as a child, and befriending aliens.
14. Cloak and Dagger

11 year old Davey is lost in a world of comic books. He ends up getting involved in espionage and is almost killed. I remember watching this and being really creeped out at the lady who is missing fingers. But other than that, this spy movie is enough to keep everyone entertained.
15. The Labyrinth

Another Jim Henson gem. David Bowie and Jennifer Connelly make this movie unforgettable. And what kid can't relate to wanting to see your younger sibling disappear? It tells a good story and has a good message in the end. Of course, we could go without seeing David Bowie in spandex.
16. Elf

Will Ferrell starred in this before he started cranking out one awful movie after another. The result is a fun, modern Christmas story that's appropriate for children while still making the adults LOL. Unfortunately, Will hasn't done much good since.
17. Mary Poppins

Maybe Mary Poppins isn't the preferable selection for most men, but you can't deny its genius. I've never met a woman or a child that didn't love Mary Poppins. And there's surely some men out there that secretly love it (I'm raising my hand here).
18. Teenage Mutant Ninja Turtles

Choose part one or part two. Either way, you're in for some fun martial arts action. And the fact that it's being done by giant turtles will capture your kids' attention as well.
19. Ghost Busters

This movie is good for the theme song alone. Add Bill Murray and the Staypuft Marshmallow man and you've reached all ages. Warning: some of the scenes are a bit scary for younger viewers.
20. The Princess Bride

The Princess Bride is in the vein of Shrek—but live action and more original. It's a fairytale and it's funny. And it's over the top. Oh, and it has Andre the Giant!
21. Harry Potter

Not much needs to be said about Harry Potter. We won't single out one movie, because they're all good. The newer ones are less childish though.
22. The Spiderwick Chronicles

It's hard to understand why this movie hasn't gotten more attention. The idea is original. Kids move to a house in the woods and get dragged into an invisible world of faeries and demons. The acting is pretty good and the evil villain is seriously awesome. If you haven't seen it and are into fairies and things of that nature, watch it.
23. Miracle on 34th Street

One of the few movies that has a remake that's as good as the original. You can watch either one and miss virtually nothing. Be sure to share this experience with your child.
24. Home Alone

Long before Macaulay Culkin was getting arrested for drug possession, he was actually a likeable actor. His crown jewel, Home Alone, had him defending his home against burglars. Lots of laughs and slap stick humor make this one enjoyable even when the kids aren't around.
25. The Incredibles

Combining superheroes with Pixar is a recipe for success. The storyline is family friendly, the battles aren't overly violent, and the superhero thing is just plan cool.
26. 9

This animated post-apocalyptic film flew under the radar. It boasts a robust cast for voiceovers, including Elijah Wood, Crispin Glover, and Jennifer Connelly—who all do a magnificent job. Basically it goes like this: a rag doll wakes up after the world is destroyed and fights for his life along with a small group of friends. It's deep, sophisticated, and packed full of action. A true work of art.
27. Willie Wonka and the Chocolate Factory

Roald Dahl wrote books simple enough for kids to love, but with enough hidden meaning for adults to latch on to as well. The original Wonka film is no different. If you aren't singing "Oompa Loompa" by the end of this movie then something's wrong with you. Choose this over the remake.
28. Nightmare Before Christmas

Nothing says "offbeat" like a Tim Burton movie. Art for the eyes and incredible plot for the mind. If you're looking for a different type of holiday movie, one that's dark yet fun, then you've got to watch this.
29. Bad News Bears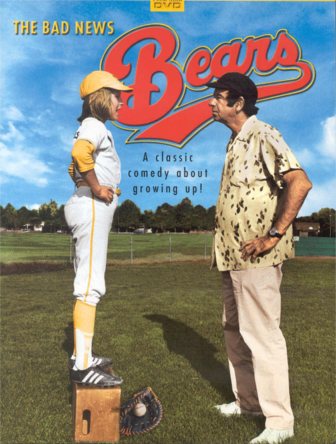 Juvenile delinquent players and drunken coaches. All set in the 1970's. What could you not love about this movie? A different kind of sports movies for those who are tired of the same old formula.
30. Who Framed Roger Rabbit?

For kids it has animation. For adults it has live action. And for those in between it has the curvy Jessica Rabbit. This movie skates the line perfectly.
I'm sure there are more great movies worthy of this list. What do you think?